Best of both worlds: Human connections, digital connections and the future of relational practice - Link Officers' Annual Meeting (online)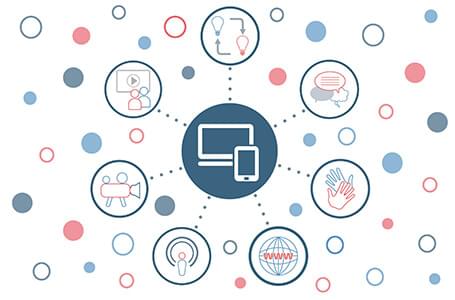 Best of both worlds: Human connections, digital connections and the future of relational practice - Link Officers' Annual Meeting (online)
Delivered online using Teams
14:00 - Thursday, 18 November 2021 : 12:00 - Friday, 19 November 2021
Overview and programme
Over the past 18 months practitioners, practice leaders, workforce development teams and the children, young people and families we work with have had to learn 'on the job' as the accelerated shift to digital working continues to re-shape how we engage with each other. This year's children & families Link Officers' Annual Meeting (LOAM) will explore what we have learned from our experiences of digital practice and how we can combine successful elements of this with face-to-face approaches to build a hybrid future that maintains and even enhances the vital relationship-based elements of our work.
Delivered both online and in person we hope many of you will be able to join us for this popular annual event. The event will be engaging, interactive and varied, with breaks and time for informal networking. LOAM will:
Present the latest research findings on the experience of hybrid practice during the COVID-19 pandemic and highlight emerging practice in this area from the Research in Practice network.
Share our work on a decision-making framework for appropriate use of digital working.
Explore and discuss how we can maintain professional ethics and relationship-based values while accommodating increased virtual working in areas such as supervision, direct work, CPD and social work education.
Discuss the impact of digital poverty and our responsibilities to families.
We will also introduce proposed topics for the Delivery Programme for 2022-23, informed by our annual consultation. LOAM will offer attendees the opportunity to directly influence the delivery outputs for these topics. This can include new learning events, publications and digital formats such as webinars, blogs and podcasts.
Aims
LOAM has always given the Link Officers of our Partner organisations the space to think about the key issues that they are facing, to spend 24 hours reflecting amongst peers, as well as sharing knowledge and good practice. Our evidence-informed practice model is at the heart of this event. Speakers will share knowledge from research, practice and lived experience. The voice of delegates is a key part of that practice aspect too, which is why each discussion is designed with participation in mind.
Each section of LOAM will be followed by an opportunity for delegates to reflect on what they have heard and to share learning from their areas.
Delivery
We have learnt a lot from the online deliveries that took place last year. ​We heard that many people valued the flexibility that this offered, whereas others missed the opportunities for informal practice sharing that occurs naturally at face-to-face events. This year, we are aiming to capture the best of both worlds.
Following consultation with our Partners, we will host a hybrid event. This means that those Link Officers from across the Research in Practice Partner network who feel online remains a preference have the opportunity to join via Microsoft Teams. Alternatively, those who are able to can step away from their screens to share practice and network with Partners in-person (in accordance with COVID-19 safety guidelines). 
We are excited about the potential this new approach offers and we are looking forward to learning with you and from you at this year's event.
Designed for
Link Officers, Strategic Champions and Principal Social Workers from across the Research in Practice network.
About the Link Officers' Annual Meeting
Link Officers are the lynchpin between Research in Practice and a Partner organisation. They focus on embedding learning and development within their organisation and championing evidence-informed practice.
LOAM brings Link Officers from across the national children and families Research in Practice network together. This popular annual event is a unique opportunity for Partners to share best practice, discuss emerging sector issues and to learn from one another.
Link Officer Awards
In recognition of Link Officers' efforts to support learning and development and championing evidence-informed practice, we will be presenting the annual Link Officer Awards at LOAM. 
Booking
As a Research in Practice Partner your attendance is included in organisational membership. Request your place using the button above. Partners on reduced contracts are also entitled to a place as part of their membership, please contact our events team for further details and any questions events@researchinpractice.org.uk.
Please note adding this event to your calendar does not confirm your place at this event.
Audience Types
Frontline practitioners
CPD coordinators
Social workers
Workforce development teams
Senior practitioners
Team leaders
Professional Standards
PQS:KSS - Relationships and effective direct work | Communication | Child and family assessment | Analysis, decision-making, planning and review | The role of supervision | Organisational context | Promote and govern excellent practice | Developing excellent practitioners | Shaping and influencing the practice system | Confident analysis and decision-making | Purposeful and effective social work | Emotionally intelligent practice supervision | Lead and govern excellent practice | Creating a context for excellent practice | Designing a system to support effective practice
PCF - Professionalism | Values and ethics | Diversity and equality | Rights, justice and economic wellbeing